1 Year License
Pay a yearly license fee and renew if satisfied.
$59.00
1 Year / 1 Mac

Lifetime License
One-time fee for free lifetime update on a single computer.
$75.00 $69.00
Lifetime / 1 Mac
Family License
Multiple-user licenses for family to share free lifetime update.
$225.00 $118.00
Lifetime / 2-5 Macs
Business License
Customize license validity and users based on your needs.
1 Year / Lifetime
5+ PCs
We accept



100% Secure
No Virus or Malware
Privacy Protected
Free Lifetime Update
More Functions Added
Friendly User Experience

24h/6 Response
One to One Support
Email and Website Live Chat
Special Bundled Offers with UniConverter for Mac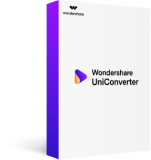 UniConverter for Mac
All-in-one video converter to convert home-made DVD, video for personal use to nearly any video/audio format, and burn DVDs.
$49.00 $75.00
Filmora Video Edior for Mac
Easy-to-use video editor to help you edit and personalize home videos for sharing on iPhone, YouTube, etc.
$39.99 $69.99
$88.99 $139.94

Frequently Asked Questions
& Resources
Wonderful Software, Wonderful Life

Established in 2003 and located in Shenzhen, adjacent to the international financial and trade center Hong Kong, Wondershare has extended its business worldwide, consistently dedicated to satisfy customers with diversified consumer software products and services. With the booming development of Chinese economy, Wondershare has been exceptionally granted by the governmental preferential policies in terms of software industry, which include tax privileges and government supports. Moreover, the abundant software talent resource in China is also a great power for Wondershare's fast development. Ever since the foundation, Wondershare has maintained the momentum of stable and fast development with the high-speed compound annual growth rate. Certified as a National High-Tech Enterprise by The Ministry of Science and Technology of the People's Republic of China, Wondershare is now widely recognized as a leading consumer software provider in China.
Millions of Nice Customers

With 10+ years of experience in providing people top-ranked software and services, Wondershare has been dedicated to serve 50,000,000+ users.
500+ Reviews from Media Sites for UniConverter

UniConverter got over 500 reviews and recommendations from YouTube, PCWorld, Lifehack, PC-Tablet, Softonic, AndroidPIT, PCWELT, TopTenREVIEWS and more.
Top