Convert Videos
How do I use High Speed Conversion?
High Speed Conversion is a technology that was developed to allow you to make the conversion of video files between formats at high speeds without losing quality.
To be able to activate and use High Speed Conversion, the formats of both the source file and the output file have to be supported by our software.
Supported Input format: H.264 codec format of MKV, AVI, MPG, TS, TRP, MP4, M4V, M2TS, MTS, MOV, FLV.
Supported output formats: MKV, AVI, MP4, M4V, MOV.
Supported output formats for devices: iPhone7,7plus, iPhone6S, 6Splus, iPhone6, 6plus, iPhone 4S, iPhone 4, iPod Touch 4, iPad, iPad 2, The New iPad, Apple TV, Apple TV 2, The New Apple TV, PS3, XOOM, Flyer, PlayBook, Galaxy S, Captivate, Galaxy Tab, Galaxy S II, Galaxy S III, Galaxy S4/5/6, Galaxy Note, Galaxy Nexus.
On the bottom of the Convert tab, turn on the High Speed Conversion, click on the Convert button and the software will automatically use the High Speed Conversion technology for your file.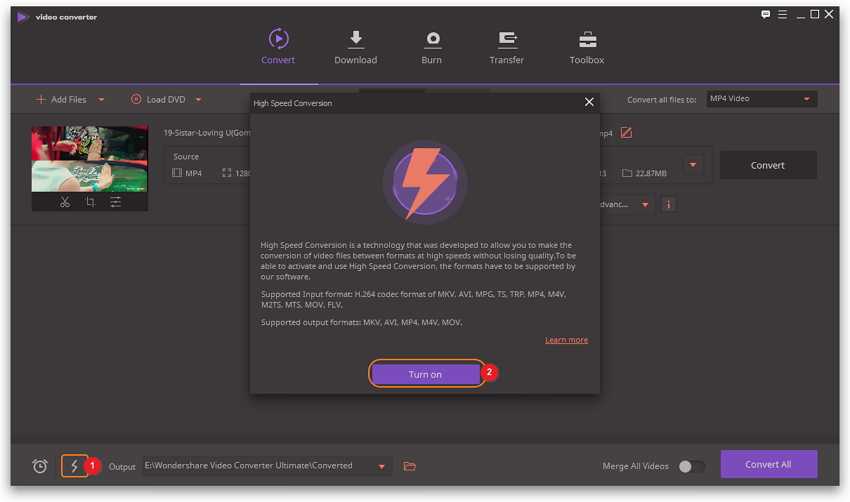 Pack Up
What is 5.1 surround, and how do I convert files in that format?
How would I improve the quality of the output file?
How do I speed up the conversion of my files?
How do I convert BBC iPlayer MP4 videos?
How do I convert a DRM protected file?
How to convert a common video to another format?